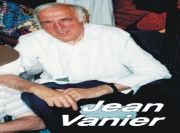 "Celebration is at the

heart of community.

To celebrate means

to give thanks, to

express our joy and

our trust."

Jean Vanier.
"Each encounter with

another person can be a

celebration. We open up

our hearts to each other.

We live a communion of

love with one another."

Jean Vanier.